"Indigenous Knowledge comes from our earth — our mother. It comes from dreams, from visions."
— Cecelia Brooks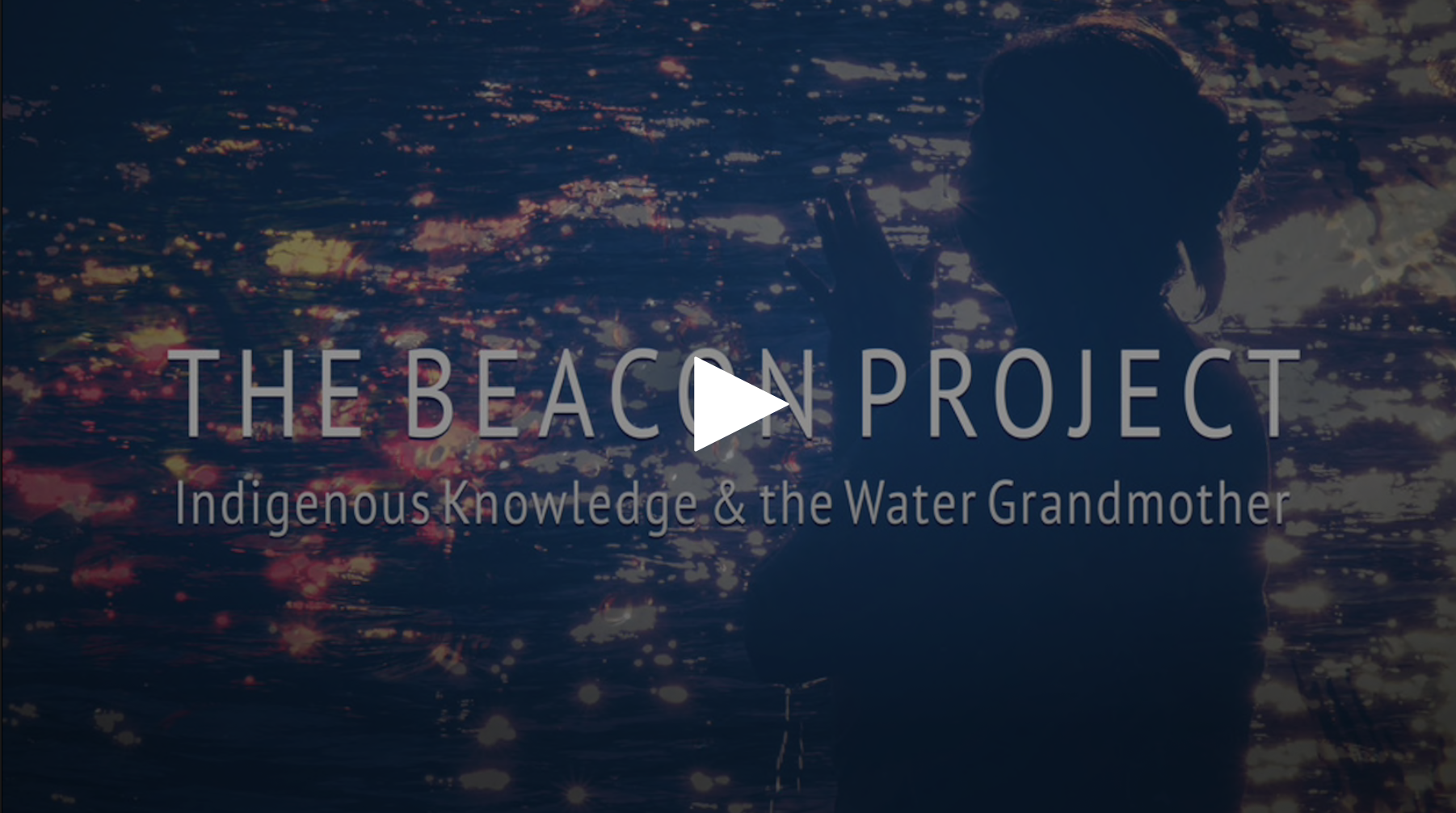 A remarkable 24,000 kilometre journey across Canada to find wisdom and to reconnect us to the land (New Brunswick).
WATCH ON CBC Gem 
In July 2015 documentary filmmaker Dianne Whelan embarked on a 24000km journey across this land in search of lost wisdom, asking the questions "what have we forgotten? What do we need to know?" Along the way she stops to pay her respects to this land's ancestors. Where she finds hope is in the old way, the Indigenous relational perspective that she learns from the wise ones she meets along the way. They are the Beacons, who like lighthouses, can guide us through danger to safety. In New Brunswick she meets scientist and Samuqwan Mi'kiju (The Water Grandmother), Cecelia Brooks. Cecelia is combining traditional Indigenous knowledge from Elders with science to build an inclusive holistic understanding from which to move forward with environmental issues. With music performances by Sacred Wolf Singers and Marie Kryszko singing a song by Cynthia Sewell and teachings by Jeannie Bartibogue, Howard Augustine, painting by Dozay Christmas, animation by Sam Decoste
Cecelia Brooks: Community Wisdom Partner
Cecelia Brooks is Samuqwan Mi'kiju (The Water Grandmother), with the Canadian Rivers Institute at the University of New Brunswick Director of Research & Indigenous knowledge at Mi'gmawe'l Tplu'taqnn Incorporated (MTI) an organization of Mi'kmaq Chiefs of New Brunswick. As the Water Grandmother, she has visited with First Nations communities across NB to address local water quality issues and document Elders' stories that connect to the water. Cecelia is combining traditional Indigenous knowledge from Elders with science to build an inclusive holistic understanding from which to move forward with environmental issues.
Elder Howard Augustine
Born and raised in Metepenagiag, Howard spent his life on the land with his father, uncles, grandfather. He is a hunter and fisher turned conservationist. Howard has been active in protecting the Augustine Mounds named after his grandfather, Joseph Augustine, who discovered the ancient burial mounds there. Now Howard is the Cultural Heritage Interpreter at the Metepenagiag Heritage Park.
Elder Jeannie Bartibogue
Jeannie Bartibogue (her spirit name is Spring Water Woman) comes from the Mi'kmaq Nation. She was born and raised in New Brunswick. Her family comes from a Traditional Linage of Matriarchal Medicine keepers and Community Leaders. She is from the Lobster clan.
As a spiritual and cultural practitioner, Jeannie has acted as a Speaker and hosted numerous presentations, gatherings and ceremonies with feasts and potlatches. She has organized two drum groups and traditional/fancy/jingle dancers in her community of Esgenoopetitj. She teaches her four granddaughters about Indigenous dance performances, and they are called the Sweet Grass Dancers.
Her Educational background is in Social Work, and she has 30 years working with her cultural/spiritual knowledge. Her work continues in the field of Holistic Wellness and Health. And presently she works as the Project Manager for five First Nation communities on Mental Health & Wellness.
Marie Kryszko
Marie Kryszko (her spirit name is Lentukjij – Little Deer) is from Pabineau First Nation. She is a proud traditional Mi'kmaq woman. She has two daughters and six grandchildren. Marie brings over 25 years of experience with Aboriginal knowledge, ceremonies, and cultural awareness. She performs opening prayers, songs, hand drumming, presentations, closing prayers, and also facilitates culturally appropriate workshops. Since 2010, Marie has been the Hostess for a guided tour called Mother Earth's Journey. It's an authentic Mi'kmaq Cultural Journey along the Nepisiguit River. Participants learn about the four sacred medicines, receive their own medicine pouches, participate in a smudging ceremony and enjoy a taste of her losgnign (Indian Bread) and tea. Marie is a positive role model in our community. She volunteers for activities that promote and encourage living a healthy lifestyle, physical fitness and cultural awareness. She also volunteers her time to teach belly dance for our women and hold gathering at her home. Marie states that, "Sharing my knowledge on Cultural Awareness can help us understand ourselves with keeping balance in our daily lifestyle. In order for our identity to stay alive and strong we need to gather and share. Laughter is the best medicine."
Sacred Wolf Singers
Tee Cloud from Metepenagiag and Julian Wells from Unama'ki are The Sacred Wolf Singers  — a Mi'kmaq drumming group who perform traditional and contemporary songs (including chants Tee Cloud has created) to honour the uniqueness of the Mi'kmaq language and the cultural knowledge that comes with it. Naming the group out of their deep respect for the wolf, The Sacred Wolf Singers have followed the pow wow trail throughout Mi'kma'ki since 2014. Growing up, Tee Cloud and Julien both learned from their fathers about singing, and Tee Cloud has also learned and collaborated with George Paul, who created the Mi'kmaq Honour Song. The Sacred Wolf Singers recently sang for the of the Bay of Fundy Atlantic Salmon when 1,000 were released into the rivers of Fundy National Park thanks to a partnership between First Nations, the aquaculture industry and the federal and provincial governments.